Senator Patricia Bates –As I anticipated, a new law (Assembly Bill 5) has hurt many Californians who want to continue working as independent contractors. I voted against AB 5 because it undermines the principle of equal treatment under the law and deprives many Californians the right to be their own bosses.

As a first step to help the many who have been affected, I have introduced legislation to help newspapers and freelance journalists continue to operate in California by exempting them from AB 5. Click here to learn more.

Fixing AB 5 is a work in progress. My colleagues and I are continuing to work on legislation to help workers in all occupations who have been hurt by the new law. Click here and here to learn more about other legislative efforts to help workers.
San Onofre Update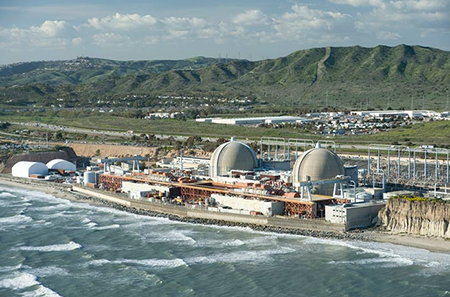 The decommissioned San Onofre Nuclear Generating Station.
Photo Credit: Southern California Edison.
Dismantlement of the San Onofre Nuclear Generating Station (SONGS) will begin this month, a process that will continue for the next eight years. Click here to learn more.

Presidential Primary Election
California's Presidential Primary Election will take place on March 3, 2020. You can register to vote, check your voter status, learn how the state's presidential primary works, and do more by clicking here to visit the California Secretary of State's website.

U.S. Census
Every 10 years, people across the country fill out the Census in order to have an accurate count of all people in the United States. The Census determines California's federal funding for community services and its fair share of representation in California and Washington, D.C.

The next Census is this Spring. Click here to learn more from the State of California.

Earned Income Tax Credit
If you work and have low income, you may qualify for the California Earned Income Tax Credit (CalEITC). This credit gives you a refund or reduces your tax owed.
If you qualify for CalEITC and have a child under the age of 6, you may also qualify for the Young Child Tax Credit. Together, these state credits can put hundreds of dollars back in your pocket.

Filing your state tax return is required to claim both of these credits. Click here to learn more.

ScholarShare
ScholarShare is California's official state-sponsored 529 college savings plan to help young people afford college. Click here to find out about the plan benefits, how it works, the tax advantages, and how the funds can be used.

Formerly Used Defense Sites Program (FUDS)
During the past two centuries, the U.S. Department of Defense (DOD) has used land throughout the country to both train Soldiers, Airmen, Sailors and Marines, and test new weapons to ensure the nation's military readiness. As training and testing needs changed, DOD obtained property or returned it to private or public uses.

Today, DOD is responsible for the environmental cleanup of properties that were formerly owned by, leased to or otherwise possessed by the U.S. and under the jurisdiction of the Secretary of Defense prior to October 1986.

The U.S. Army Corps of Engineers is conducting notification and safety education activities within California. There is one area in the 36th Senate District that is affected: the former Trabuco Bombing Range in South Orange County. Information has been or will be mailed to affected landowners whose property may be subject to environmental or safety concerns linked to past DOD activities.

Click here to learn more. You may also call the toll-free FUDS information telephone line at 1.855.765.3837.

Citizens Water Academy
The San Diego County Water Authority's Citizens Water Academy is now accepting applications for its Spring 2020 class.

The Academy is an opportunity for San Diego County residents to learn about critical projects and programs related to water. Click here to learn more. Applications are due by February 17.

Internships Available
I am seeking interns for my Encinitas and Laguna Hills district offices. This is a great opportunity for college students who are thinking about public service.

Interns will be able to understand how government works and the power of civic engagement for both local and state issues. Interns will be given a firsthand look into the ways in which government works for the people. Additionally, interns will gain valuable life skills including business and professional etiquette.
Those interested in interning should send a resume [email protected]
36th District Highlights
AND MORE!
Met with Rima Nashashibi, the President of Global Hope 365, at my Laguna Hills office to discuss efforts to end both human trafficking and child marriages in California.
Congratulated Rob Zampino (left) on his retirement from the City of Laguna Niguel. Rob has faithfully served Laguna Niguel's residents for 33 years.
On my behalf, my staff also:
Accepted an award from Alcohol Justice, an alcohol industry watchdog, for my efforts to oppose policies that would weaken statewide protections of a uniform 2 a.m. last call in California's bars, restaurants, and clubs. My legislative director, Sarah Couch (2nd from right), accepted the award on my behalf from Alcohol Justice representatives and Assemblyman Tom Lackey (right).