San Diego County's BIGGEST little theater!
JOIN US DOWNTOWN! head to Vista's Broadway Theater to hear the amazing sounds of The Pin-Ups—a USO Tribute (check out the video below!). The show runs Fridays and Saturdays through Oct. 30.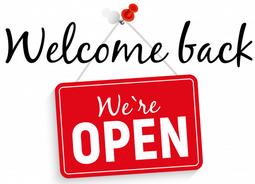 Dear Theater Patron,
It has been a long 18 months, and to say we are excited to open our doors again would be an understatement. During the time we have been away, many of you have reached out asking if there is anything you could do to ​help. We can't tell you how much that meant to us. We've always thought of our patrons as family, and during our hiatus you proved that statement to be true over and over.
Doug and I cannot fully express how much your continued support of our little theater has meant over these many months. Several theaters in San Diego were not as fortunate as ours – and this fact is not lost on us. If you purchased season tickets prior to the global shutdown in March of 2020, that season will resume in February 2022…so hang on to those tickets! While some of the shows from 2020 may change, your tickets will be honored. In the meantime we are taking advantage of the next couple of months to get our feet wet again. If you purchase a ticket to one, (or more), of the three shows we are offering in October, November and December we all win. Your ticket purchase will be helping us get back on our feet and we will get the chance to entertain you again. The Broadway Theater will be following Broadway New York's lead. Everyone, (whether vaccinate or not), will be required to wear a mask. If it's good enough for the big guys on Broadway it's good enough for your little Broadway Theater in Vista.
Once you've picked the show – or shows – you would like to attend, give us a call and we will get you set up with some great seats. As always, Doug and I will be answering the phones and we can't wait to speak with you after all this time.
Box Office is open 7 days a week from 10:00 a.m.to 6:00 p.m. (760) 806-7905 or you can order ON LINE by clicking HERE

When you walk through our doors again, we promise to have complimentary cookies and coffee at the ready as well as the "Worst Opportunity Drawing On The West Coast."

Welcome back to the Broadway Theater!
Randall Hickman and Douglas Davis
Friday, October 15th, – Saturday, October 13th 7:30 pm
Sunday, October 17th 2:pm
Friday, October 22nd – Saturday, October 23rd 7:30 pm
Sunday, October 24th 2:00 pm
Friday October 29th -Saturday, October 30th 7:30 pm