Chamber Golf Tournament – 

Aug 7

 
 Sign up today to participate in the 2017 Vista Chamber of Commerce annual golf tournament.  Our tournament will be held on Monday August 7 at Shadowridge Golf Club.  Our tournament will benefit the Boys and Girls Club of Vista.  Early-bird pricing expires on July 6 – sign up now before prices go up!
July Business Mixer @ TJ's – 

July 12

 
 Join us for our July Business Mixer on 
Wednesday July 12
 from 
5:00pm to 7:00pm
 at TJ Crossman's Auto Repair of Vista. We will have great networking, fun food (TJ is a Grill-MASTER) and awesome raffle prizes.  TJ Crossman's is located at 
1148 N Melrose Dr.
 in Vista. General Admission is $20.00, Chamber Members: $5.00.
Beer Committee @ 508 Tavern – 

July 19

 
 The Vista Beer Committee will hold its monthly gathering at 508 Tavern on Wednesday July 19 at 5:30pm. 508 Tavern is located at 508 S. Santa Fe Ave in Vista (map). All are welcome.  No cost to attend. Don't forget your business cards.
Good Morning Vista @ Monarch – 

July 21

 
 Join us for our breakfast networking group, Good Morning Vista at Monarch, on the third Friday of the Month from 8:00am to 9:00am.  This is a networking coffee club. No cost to attend.  Light refreshments are provided.  Come meet other business professionals & make local connections. Monarch is located at 1850 Thibodo Road in Vista (map).
Member Orientation – 

July 21

 
 We would like to welcome all new members, existing members with new staff, or prospective new member to our Membership Orientation Lunch on Friday July 21 at the Chamber Office.  This is a great way to find out how to maximize your Chamber membership.  Meeting is from 12:00pm to 1:00pm. A complimentary lunch will be served.  The Chamber Office is located at 127 Main Street in downtown Vista. R.S.V.P. appreciated.
Lunch & Learn Interactive Nutritional
Workshop – 

July 25

 
 Are you interested in getting fit, losing weight or enjoying more energy?  Then we invite you to our July Lunch & Learn for an Interactive Nutrition Workshop.  Come figure out the balance of carbohydrates, proteins and fats you can have to look and feel your best, as well as learn about products to help support that. Kristin Frade, from 
AdvoCare
, will be our presenter.  There is no cost to attend, however, this workshop is limited  12 attendees per session.  We are offering two sessions on 
Tuesday July 25
 here at the Chamber Office: 
11:30am & 12:45pm
. R.S.V.P. is mandatory: 
info@vistachamber.org
.
Lunch Mob @ Prohibition – 

July 28

  
 Join us on Friday July 28 at 12:00pmat Prohibition Brewing Co. in Vista for our networking lunch mob.  Prohibition is located at 2004 E. Vista Way in Vista (map).
Bring your business cards and an appetite. There is no cost for this event (but each attendee must pay for their own food) and all are welcome!
Solatube Summer Block Party – 
July 20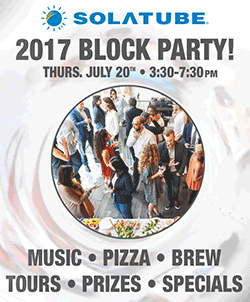 Join Solatube International for a mixer with local business leaders and your North County neighbors at the annual Solatube Summer Block Part on Thursday, July 20, 2017 from 3:30 PM to 7:30 PM. No cost to attend, preregistration requested. Click to register.
Solatube International is located at 2210 Oak Ridge Way in the Vista Business Park (map).
Free $200M Tax Credit Workshop – 
July 21
 Did you know the state of California is offering over $200 million in tax credits this year to business owners willing to add just one job? This unprecedented program is free and available to businesses of all sizes, in any city in California. Come find out all the details at a free workshop on 
Friday July 21, 2017 from 10:00 a.m. to 11:30 a.m.
 at the Vista Civic Center.  
Click to register
.
SBA Day Lender Fair – 
July 26
 The SBA San Diego District Office, the Vista Chamber of Commerce & the Economic Development Office of the City of Vista are hosting an SBA Day event and Lender Fair on 
Wednesday, July 26th
 at the Vista Civic Center from 
8am to 2pm
. The program is free, but registration is required.  An optional lunch will be available for $5.00.  Great seminar for those in business and those thinking of starting a business.  
Click to register
.
Tech Talent for Growing Companies –
July 26
The five cities of Innovate78 invite you to an evening forum focused on strategies for how companies can grow talent from within and access talent from local institutions on 
Wednesday July 26
 from 
4:00pm to 7:00pm
at the Vista Civic Center. The open house and panel discussion will provide attendees an opportunity to network with fellow North County companies, and hear from local leaders in education about methods for developing a globally competitive workforce. 
Click to register
.
Thank You Long Time Members!
 We have 2 members who is celebrating a significant anniversary with us this month, and we would like to thank them for their membership:
Alta Vista Botanical Gardens – 15 Years
Hunter Steakhouse – 5 Years
Get the Vista Chamber of Commerce on YourBusiness Team TODAY!
Business Community Maintains Steady Optimism Looking to Summer!

This month's San Diego Private Bank-sponsored Business Forecastshows that San Diego's business community remains steadily upbeat about near term prospects. The Business Outlook Index (BOI) sits right at its all-time average of 23.7. There has been no change in the outlook since last month and optimism has been stable the entire year. It has been a pleasantly remarkable change from 2016, when San Diego's business community began to doubt that things would improve and see-sawed its way through the year. 
Click for full report
.
Tri-City Seeks Corporate Sponsors to Partner with Back-pack Program Launch!
 Over 20,000 San Diego school children will go entire weekends not knowing if there will be enough food to eat. Tri-City Medical Center and the North County San Diego Food Bank have partnered to do something about it in North County through a "back-pack" program that sends food home every week to kids in need.  Tri-City is looking for community sponsors to support this effort and will match up to $25,000 in corporate donations on a dollar for dollar basis.  Can you help? To learn more, contact David Bennett at 
760- 940-7365
 or email at 
bennettdm@tcmc.com
Puppetry Workshop for All Ages – 

July 8

 
 Come to Alta Vista Gardens on Saturday July 8 to participate in Shadows in the Garden. Come learn about puppetry and make shadow puppets with Master Puppeteer Tania Yager and Farmer Jones. Class fee is $10 per person, ages 5 to 95.  Class limited to 20.  Preregistration & prepayment required. 
Email
 or call 
(760) 822-6824
 to reserve your spot today.
Vista Relay for Life – 
July 15-16
 If you are looking to make a difference and help stamp out cancer, get involved in the Relay for Life in Vista 
on Saturday
 & 
Sunday July 15 & 16
 at Rancho Minerva Middle School in Vista. To find out more details or to sign up, 
click here
.
Little Mermaid @ Moonlight – 

July 19 – Aug 5

 
 Based on one of Hans Christian Andersen's most beloved stories and the classic animated film, Disney's The Little Mermaid is a hauntingly beautiful love story for the ages. With music by eight-time Academy Award winner Alan Menken, lyrics by Howard Ashman and Glenn Slater, this fishy fable will capture your heart with its irresistible songs, including Under the Sea, Kiss the Girl, and Part of Your World.  Come to Moonlight Amphitheater this July to enjoy! 
Tickets
.
Moonlight Youth Theater Camp – 

July 17-21

 
Award-winning Moonlight Youth Theater brings you a week of fun, immersive instruction in singing, dancing, acting and more on 
July 17 through July 21
. Camp is for kids 7 to 16 years old. Preregistration is required. Form information, contact Mike Bradford: 
760-500-3620
 or 
mike@moonlightfoundation.com
.
North County Food Bank Golf
Classic – 

July 24

 
 Join Tri-City Medical Center for its inaugural North County Food Bank Golf Classic benefiting the hunger-relief program of the North County Food Bank. Sponsorship and foursomes still available the 
July 24
 tournament at Shadowridge Golf Club.  
Click for more information
.
28th Annual Vista Rod Run – 

Aug 6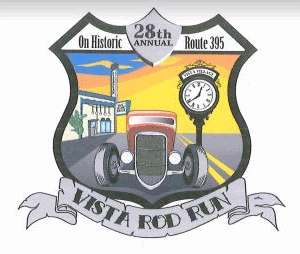 Vista Rod Run returns for its 28th year on 
Sunday August 6, 2017
 to historic Main Street. This downtown tradition is hosted by Vista Village Business Association and runs from 
9:00 a.m. to 2:00 p.m.
 Thirty trophies will be awarded at the close of the event. All proceeds from raffle will benefit Vista Teen Outreach, Hunger Hurts. 
Click for more information
.
Tri-City Medical Center Awards $300,000 in Grants   
 The Tri-City Healthcare District has long been committed to improving the health and wellbeing of those in the community. On June 29, through its community grants program, the district awarded 16 local non-profit organizations with $300,000 in funding ranging from $5,000 to $45,000 each. Thank you to Tri-City for supporting the community.
Stay in the Know with Energy Alerts  
 Even if you're on the go, you can still keep track of your energy use and costs with email or text alerts. These alerts give you information about your account, bill, energy use, and more. You can subscribe to any or all of these alerts.
Your pre-set spending goal was exceeded.
You've moved into a higher-priced electric tier (residential customers only).
A weekly energy use summary with all of this information plus energy-saving tips
How to subscribe to alerts:
1.    Log into My Account
2.    Look for "Alerts & Subscriptions" at the top
Top 10 Water Smart Tips  
 With warm weather expected to continue through the summer, the San Diego County Water Authority is reminding residents of simple steps for saving water during the hottest, driest months of the year.
The region has a highly reliable water supply going into the peak water-use season, But NOAA's Climate Prediction Center forecasts above-average temperatures across the West during July, August and September, underscoring the importance of residents and businesses to practice efficient water use. Top Water Smart tips for residents.